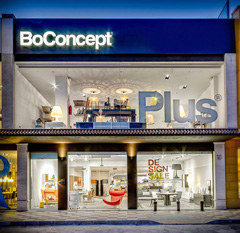 If you have any questions, concerns or comments please do not hesitate to contact us. We will try to do our best to answer you as quickly as possible. We will reply to e-mails in a maximum of two days and we will be available via phone during opening hours.
BoConcept Málaga, Ctra. de Mijas km. 3.5, 29650 Mijas, Málaga, in Spain.
NEW OPENING HOURS DURING COVID-19
Monday - Friday
11:00-18:00
Saturday
10:00-14:00.
Tel: +34 951 242 092
We invite you to take a virtual tour of our Mijas, Málaga showroom.
Click here to see our video
DIRECTIONS
Coming from Málaga
Take exit KM. 213 on the A7/AP-7 before the toll road starts (the first exit for Mijas). Take the third exit in the roundabout towards Fuengirola. The store will be on the right side.
Coming from Marbella
Take exit KM. 210 on the A7. Take the second exit in the roundabout towards Mijas Pueblo. Go straight through the next three roundabouts and the store will be on the left side.