What makes us different from the rest?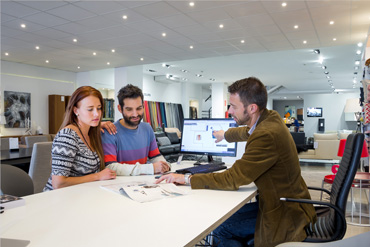 Plus Store strives to give our customers an exceptional shopping experience – from the moment they walk into our store until the last piece of furniture is delivered and assembled in their home. The customers' satisfaction is always our priority.
Individual solutions
We prepare customised solutions for all of our clients, showing them what the furniture will look like in their space and providing them with a collage, 3D views and a floor plan. We go out of our way to make our customers happy.
We think everyone should have a touch of Scandinavia in their homes. The style, functionality and quality of our furniture truly has an exclusive, long-lasting aesthetic that can easily be added to both new and old spaces. All of our brands complement each other, and we urge our customers to mix and match to create a style unique to them – so every home has the customers' personal touch. We want to provide our customers with a custom-made solution for their space.
Our customers always come first

At Plus Store, we provide a personal, reliable experience for our customers. We are not only selling furniture but also an exceptional experience. During the interior design process, we work hard to gain our customers' trust.
We offer a diverse range of brands, which we are proud to present on this website.
Check out our new showflat in 'El Higeron' in Benalmádena Click here to see our video